(4 minute read)
Creating a meaningful video that really speaks to your audience requires a multitude of steps (see our blog post about how we put our videos together) and help from some very talented individuals. Here at Gradino we are lucky to work with some of the best in the business, and we are keen to share how our colleagues have a huge impact on the videos we create.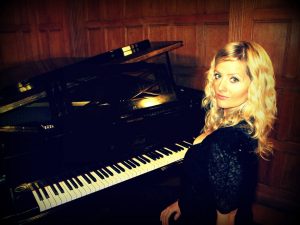 Anne-Marie Firmin regularly for composes and writes songs for our projects. See her website for more details!
Tell us a little about what you do. 
I write music for all sorts of reasons and projects.  Some are my own for pure pleasure and commercial release. Some of my tracks are registered with music libraries and sync companies and I also work directly with filmmakers and organisations to create bespoke scores for media projects.
How long have you been doing it? 
I've been playing and writing music all my life, but got into composing more professionally around six years ago.
How did you get into this particular field of work?  
It is something I have always wanted to do, so when I turned 30, I decided it was a 'now or never' scenario. I decided to buy a home studio and learn music production to ensure I could then start pitching for work.  Until that point, I had composed but not produced and you can't really do one without the other if you want to be a professional, independent composer.  It was quite a big investment of time and money but I'm so glad I did it, as being able to actually get straight down to writing and recording is really important.
What key skills are required for your role?  
You need to be creative, reliable and friendly.
In your own words, why are soundtracks so important in a video? 
It is that underlying vibe that you are trying to create – you can set the tone for better or for worse with something a simple as a chord change or a different instrument.  It is so subtle that people don't realise that the feel is coming from the music but if you change or remove the music, the scene would have a totally different feel to it.
What do you look for in a brief from a client? 
Ideally clarity and consistency – the clearer the brief can be, the better for me as it means I know roughly what ballpark to start writing in.  I find pretty much any and all projects interesting.
Describe the process you go through, from receiving a request to work with someone, to creating the finished product.  
Firstly, ask questions: find out what they actually want, where they want music, which bits they want to highlight and so on. I usually then ask for a couple of guide or reference tracks so the client has chance to really think about what instruments and vibes they like before I start writing.  There is then a back and forth process where I send over a draft and usually get some feedback and make a few tweaks.  Finally, it is the fairy dust stage once the actual track has been signed off and agreed on – mixing and mastering to get that final sheen and make sure the music sits in comfortably with voiceovers etc.
People have such different tastes in music. How does this affect what you do?  
It is tricky as it is so intuitive and there is no set right or wrong – the entire process is subjective.  Also, when receiving briefs, you can get very generic things, like it has to be 'cool', or 'happy', but if you actually break that down, it will mean completely different things to different people so there is always an element of just trying stuff out and seeing how it goes. No two people will react to a score in the same way, so it's about trying to find general parameters in which to write where it will work and result in the desired effect for that particular media project.
You've been given a brief and created an original piece that ticks all the boxes, but on showing it to the client, it doesn't quite resonate with them. What do you do? 
Usually there is then a back and forth process which is actually really helpful at both ends and it's to be expected that there will be bits and bobs that need tweaking and amending. I'm happy to do that as part of the project and it's really rewarding to watch over a piece that has truly been collaborative and brought together the best of everyone's natural skill, especially in longer projects such as docu-films.  The most challenging aspect is if you are dealing with multiple end clients who have different opinions, as it is that bit harder to get consistent instruction and feedback to enable you to move forwards to the final completion.